Centennial Housing/Industrial Development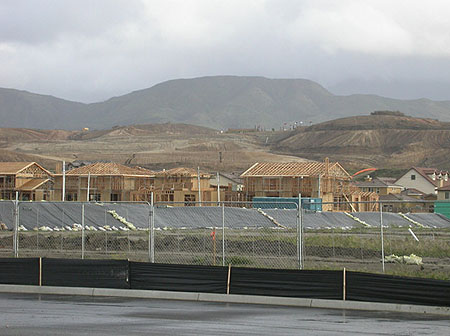 Housing tract near Murrieta, California
Centennial is also still in the planning stages, and not yet built. It is not the solution to California's housing needs, and in fact would cause increased gridlock on Interstate 5, increased air pollution, and would certainly burden multiple municipal services due to its remoteness. It would be a sprawl development at its worst.

The Tejon Ranch Company's proposed 23,000-home Centennial project is the largest housing development ever proposed in the history of California, and is located on lands that currently support more Pronghorn than people in the Antelope Valley. To build the proposed 14 million square feet of retail and commercial centers, along with approximately 23,000 houses, would require paving more than 12,000 acres (approximately 19 square miles) of native grasslands, wetlands, juniper woodlands, oak woodlands, chaparral and scrublands.
Touted as a "planned community" designed around a number of "villages," Centennial would be an enormous new city, unsupported by infrastructure or public services and isolated from existing metropolitan centers or industry. It is leap-frog sprawl development at its worst. Absent onsite jobs, residents would be forced to commute at least as far as Palmdale/Lancaster (more than 50 miles roundtrip and itself a bedroom community to the Los Angeles Basin). The route? Highway 138, a two-lane highway.
More likely, residents would commute to Los Angeles—a 100+-mile roundtrip along the infamously congested Interstate 5. Another likely commute is to Bakersfield (also more than 100 miles roundtrip). All of these routes affect the South Coast and San Joaquin Valley Air Quality basins—both of which already have notoriously bad air quality. As currently proposed, the development will sever an important wildlife corridor— Oso Canyon—and eliminate most rare plants and many animals throughout the site. Centennial development is proposed by the Tejon Ranch Company in cooperation with three of the largest and most notorious real estate development developers in the nation: Standard Pacific Homes, Pardee Construction Company, and Lewis Investment Company, LLC.
Read the April 2004 press release and the Center and CRPE scoping comments on the Centennial Development.